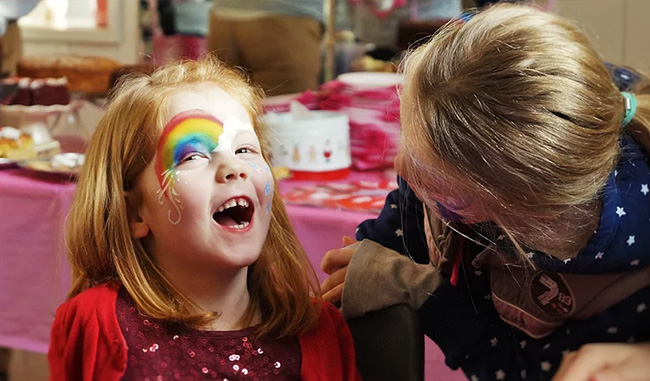 Face Painting is a great activity to offer at girls' birthday parties, and many little girls will love the opportunity to be transformed into fairy princesses. Buy good-quality Face paint and add plenty of sparkle and glitter to help achieve professional results. Look online for creative ideas to inspire you and use your imagination to vary the colors and design for each child, so she can enjoy her own unique fairy princess look.
Step1. Tie up long hair away from the face, or secure short hair with a hairband so it doesn't interfere with the makeup.
Step2. Choose an eye color, dip a medium brush in water and load it with the paint. Have the child close her eyes and brush the color gently over the eyelids, and up towards the eyebrows. Brush a sweep of the same color under the lower lashes.
Step3. Draw a teardrop shape on her forehead, just above the bridge of the nose, like a jewel.
Step4. Rinse the medium brush. Load it with a lighter color, and sweep it along underneath the eyebrows. Paint long swirls above the eyebrows, curling them up at the ends. Use the fine brush to outline the jewel shape in a lighter color, and add decorative dots, tiny teardrop shapes, and swirls across the forehead and around the eyes.
Step5. Apply glittery lipstick carefully to the lips. Use the fine brush to outline the lips if you wish.
Step6. Finish by applying cosmetic glitter with the fine brush, using it to add highlights to the design across the forehead, and around the edges of the eye sockets.