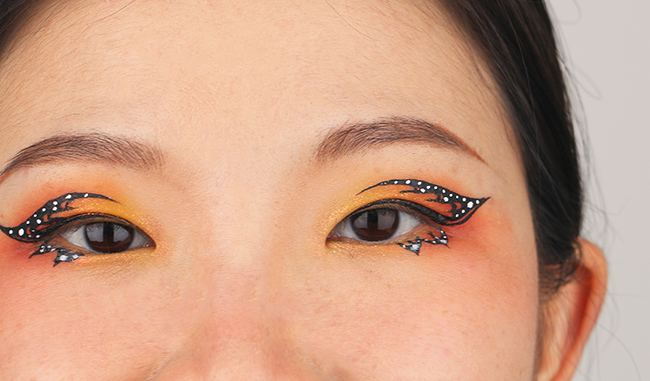 How to use water-activated eyeliner?
Want to put a water-activated eyeliner to use? Follow the steps below to bring your water-based formula to life. We'll also be sharing how to tight line your eyes with cake eyeliner!
Step1. Prime your eyes
Starting with an eye primer is an important step in any eye makeup look. Smooth one-on to increase the lifespan of your makeup. Don't have an eye primer on hand? A dab of concealer or foundation will do the trick in a pinch!
Step2. Apply eyeshadow
Grab your eyeshadow color(s) of choice and apply them now before moving on to your water-activated eyeliner.
Editor's note: Consider creating a watercolor eye shadow and eye makeup look to go with your water-activated eyeliner. For a step-by-step tutorial, here's how to do artsy watercolor eye makeup.
Step3. Grab your eyeliner
Now for the moment, you've been waiting for: Using your cake liner! To activate your eyeliner, you can use regular tap water or a setting spray, which will give it an extra lasting boost. Dip an angled brush or thin eyeliner brush into your liquid of choice, then dip the brush into your water-activated eyeliner to pick up the product. For a softer look, use more liquid to dilute the pigment. If you want a bold, vibrant look, keep your eyeliner a thicker consistency by adding less liquid.
Step4. Line your eyes
Lining your eyes with water-activated eyeliner involves the same process as using a liquid or gel eyeliner—take your time and let your brush do the work. You can apply cake eyeliner wherever you would normally apply eyeliner. If you plan to tight line your eyes with a water-activated eyeliner, make sure it's on the thicker side consistency-wise. The paste-like formula can be applied with an angled brush to your upper waterline by gently pressing the liner against the base of your lashes.
Step5. Coat your lashes
As with any eye makeup look, it's important to finish with a few layers of mascara to tie everything together and give your lashes an extra boost. 
How to remove water-activated eyeliner?
As we said, water-activated eyeliner isn't waterproof since it's water-based. So, when it comes to removing cake eyeliner, the process is actually quite simple. Saturate a cotton pad with a makeup remover, and gently hold it over each eye for a few seconds before wiping away any traces of liner.