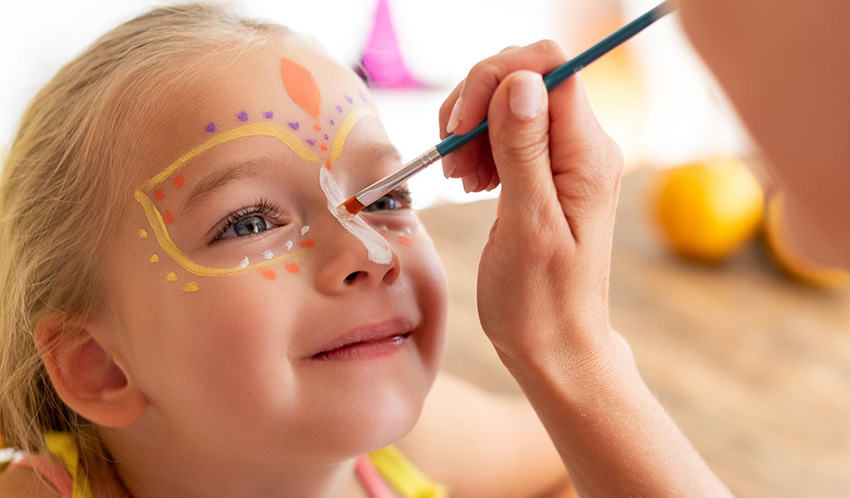 Face Paint is so much fun for young kids to experience. There's something magical about getting your face painted.
Kids don't need to know how to make detailed designs to enjoy painting themselves, another face, or their own body. Face painting is great for dress-up play or dressing up an existing costume. Body painting actually comes very naturally to kids; I've witnessed this many times in my classes. Set up a child in front of a large mirror so they can see the paint go on their own face. Inspiration is sure to come! Even letting your child paint you can be exciting. If you are a parent or teacher you can learn some basic designs that will impress any child. A simple rainbow, snake or insect will be a crowd-pleaser if you will be the face painter. 
Most modern Face Paints are made with safe waxes, lotions, lanolin and cosmetic colorants. Use only water-soluble, non-toxic, FDA-approved face paints made for kids. 
Child grade face paints are usually dermatologist and toxicologist tested, however, I recommend doing a small test on your child's arm or torso for any reactions before fully face or body painting. 
Face paints are very thick and sticky and need firm pressure to be spread on the skin. Kids can use fingers, a sponge or a paintbrush to apply paints. Some are greater than others. 
Be sure to have plenty of napkins nearby for sticky fingers. Face paints are water-based and usually washable. Most face paints can be cleaned off with just warm soapy water. 
Some face paints are high in pigment concentration and may stain clothes. So I recommend wearing an artist smock, cover-up or play clothes. 
Today's face paints come in an array of color choices, even safe shiny glitter colors. Kids can paint images with just a few color choices. Face paints come in round cake pans and stick similar to lipstick form. 
If you also want to build a safe and healthy private label, we can help you.
We have QA and QC Department, and we have been audited by GMP, BSCI and getting some certificates, such as CE, ASTM, CPSR, MSDS, and so on.
By taking quality, healthy, eco-friendly, natural and the best-applied effect as the starting point, our products gain recognition from many foreign clients.
We are confident that our service will be a valuable asset to your function.
Welcome, learn more information about our products and inquiry us.